There's never a shortage of events at Families Helping Families! 
We work throughout the year to host a variety of family-friendly occasions designed to bring the community together and raise funds to assist our neighbors in need.  Check out photos from local happenings including contests, safety events and food drives - you may even see yourself in here!
It's that time again!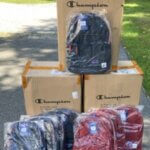 Thanks to your generous donations, Families Helping Families was able to provide brand-new backpacks to Cheryl Church of Clinton Family Services who will distribute them to local kids who otherwise may not have quality packs for their school supplies.
Speaking of back-to-school...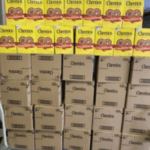 We all know breakfast is the most important meal of the day, so to ensure all our youth have the best start to learning, FHF supplied the Clinton Food Pantry with 300 boxes of whole grain, tasty goodness!
We couldn't have done it without you!
What's better in the Fall than a warm meal with potatoes?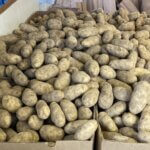 There's potatoes au gratin, potato soups, mashed or baked potatoes, hash browns you get the idea. In that spirit and with the help of your donations, FHF procured over 900 pounds of spuds that went directly to The Clinton Food Pantry! Happy Fall!
Farm Fresh Produce and Generosity Combine at
Grove Gardens Landscaping
For the past several summers, Jill Hale and Gary Bousquet of Grove Gardens Landscaping grew and sold some of the freshest locally grown produce in front of their business on Boston Post Road.
In addition to providing the Shoreline with some of the best veggies around, all purchases from the stand were donated to Families Helping Families.  To add to that, Jill and Gary absorbed ALL of the costs from the produce to operations!

An uncomfortable but necessary conversation:
Suicide in Clinton
On September 1, 2022, the cafeteria at Jared Elliot Middle School was filled with members of our community concerned about this national crisis that has not left our small town untouched.  Our goal is to continue working with community leaders and experts to implement support and task groups to provide assistance and ensure everyone in our community knows they are cared for and understand their life matters.

The Shoreline Academy -
Kidz Konnection
The Academy began in Clinton as Kidz Konnection in 2006, with a handful of youth who met to rehearse and perform a few shows a year to the enthusiastic public.  Under the leadership of NYU Tisch School of the Arts graduate Laura Attanasio, the organization has grown to become the Shoreline's best Arts Academy - an inclusive place for students to build community, explore classic literature, and express their creativity after school and perform for the community.
FHF is proud to support The Academy and offers summer scholarships for children who may not otherwise have an opportunity to participate. To see more photos and learn more, including their powerful staged reading of The Laramie Project - Ten Years Later, please visit their website at https://kidzkonnectionct.org/.

Go Fly a Kite 2022
On May 14th, FHF held our annual kite flying and family fun day at the Clinton Beach.  The event was, and will continue to be, free for all, and we look forward to seeing you there next year!

2022's Bike Giveaway and Safety Day
Families Helping Families, the Clinton Police Department and Paul "The Bike Guy" Eagan teamed up for another year of giving bikes, helmets and safety instructions to Clintonites! We over 40 bikes and helmets found new homes; young riders were trained up on bike safety. FHF is honored to support Paul as he restores old bikes to their former glory and provides them free of charge all year long. Join us at the Police Department next year!
2022 Spring Food Drive
THANK YOU to all the Clintonians and folks from surrounding towns who donated to the "Stuff the Crusier" Spring Food Drive! Each year The Clinton Police and Families Helping Families host this drive to stock the shelves of the Clinton Food Pantry after long winters.
Our amazing volunteers happily unloaded over 1,200 pounds of food and personal care items that were so generously donated. As always, 100% of the goods and dollars will be used for the Pantry.
Additional thanks this year goes to Bob Rainville Store Manager at Clinton's Big Y Supermarket for the opportunity to host at his store.
2021 Full Tables on Thanksgiving
"The Full Thanksgiving Table Effort" was started four years ago, with a goal of providing a $25.00 gift card for each family using the Clinton Food Pantry to ensure all had a full table on the day we give thanks. This year the program ended on November 16th and was an awesome success thanks to the overwhelming generosity of the residents and friends of Clinton!! With the dramatic increase of families relying on the Pantry this year we knew we couldn't accomplish this goal alone, so we turned to the community for help and help they did in typical Clinton style.
Our objective was to provide 250 gift cards to the Clinton Food Pantry in time for Thanksgiving. Two turkeys were set up at the Clinton Police Department and the Clinton Fire Department for community members to drop off gift cards and a special donation page on our website fhfclinton.org was created. Every day, cards and donations were streaming in from families all throughout Clinton.
This year our goal was surpassed and all 339 families using the Clinton Food Pantry received a $25.00 gift card to a local supermarket and FHF was also able to provide 2,450 pounds of fresh produce to the Pantry!